Letter from President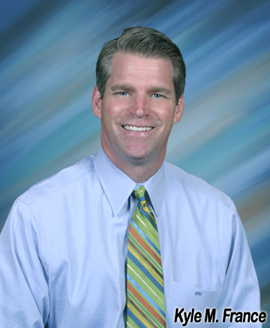 In 1949 Pat Kehoe and Frank France were young educators with a dream to develop a non-denominational coeducational elementary school that focused on the fundamentals of academics at the same time provide students with opportunities to engage in the arts and athletics. Having literally grown up in this business having been raised in the family home on our campus in Metairie, I am honored to be able to continue the dream of my parents. There is no greater calling than that of helping to shape and mold the minds and bodies of the next generation of leaders, and it remains the focus of our family to continue the fine tradition of excellence at Kehoe-France.

Kehoe-France School has long been recognized as a school that stands out not only for its academic and liberal arts curriculum, but also for the importance we place on developing social skills and building character among our students. Our purpose is to develop the child intellectually, spiritually, emotionally and socially. It is in a child's formative years that a love for learning develops, and Kehoe-France offers the opportunity to embrace and enjoy that adventure.

Kehoe-France School and Kehoe-France Northshore are a family community committed to academic excellence. Through the close cooperation of parents, faculty and administration, we foster a nurturing environment, developing the individual potential and ability of each child. We encourage enthusiasm for learning, confidence in pursuing school tasks independently and respect for others while working cooperatively. These tools are what help prepare the Kehoe-France student for high school, college and life beyond.

Our goal is to provide excellent academic programs in nurturing, yet challenging environments, while focusing on each child as a thinking and creative individual. The Kehoe-France programs encourage balanced growth and motivates students in developing their individual sense of values, creative talents, reasoning and communication skills in an ever changing and challenging society.

Our schools are committed to attracting and maintaining an outstanding faculty of men and women, who are competent, enthusiastic and creative. Teachers work closely with the students and parents in a continuous effort to enhance communication between home and school.

We at Kehoe-France are proud of our commitment to quality education in family-oriented environments and believe our motto God-Country-Discipline summarizes these beliefs. Thank you for your interest in our programs, and I look forward to seeing you on one of our campuses.