Kyle France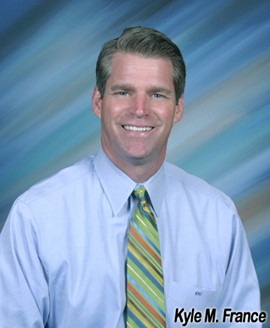 Kyle France
President
Phone: 985-892-4415
Kyle attended DeLaSalle High School and Louisiana State University where he earned a Bachelor of Science degree. He then earned a Master of Education in Administration and Supervision from Holy Cross College. Kyle is a fellow of the Institute of Politics at Loyola University and serves as President of Kehoe-France.
Kyle currently serves as President, Board of Directors of the National Independent Private Schools Association; Chair, Board of Regents of Holy Cross College, New Orleans; Executive Committee Member, New Orleans Sugar Bowl, New Orleans; Advisory Board, The New Orleans Advocate newspaper; Treasurer, Children's Hospital, New Orleans; Board of Trustees of University Medical Center (UMC), New Orleans; Role Model of the Year of the Young Leadership Council. Kyle was past president of and former Board Member of the Board of Governors for Magnolia School for Special Students; former Board Member of Big Brothers/Big Sisters of New Orleans; former Chair of the Greater New Orleans Expressway Commission (Causeway) and past Board Member of Mary Bird Perkins Cancer Center of St. Tammany Parish.
Kyle is married to Kendra Hardy and they have two daughters, Mary-Martin and Anna-Kate.